280mm 18-54W 316 Stainless Steel IP68 Swimming Pool LED Light
Name:
280mm 18-54W 316 Stainless Steel IP68 Swimming Pool LED Light
316 Stainless Steel Underwater LED Swimming Pool Lights Specification :
Item No.
Power
LED qty
LED type
Size
LED Color
Voltage
Material
IP Grade
FG-UWL280-252S
18W
252pcs
SMD3014/2835
280*35mm
Warm white
White
Red
Yellow
Blue
Green
RGB
AC/DC 12V
316 Stainless Steel
IP68
FG-UWL280-333S
24W
333pcs
SMD3014/2835
FG-UWL280-441S
30W
441pcs
SMD3014/2835
FG-UWL280-531S
35W
531pcs
SMD3014/2835
FG-UWL280-630S
42W
630pcs
SMD3014/2835
PAR56TG-9*3W
27W
9*3W
High Power led
PAR56TG-12*3W
36W
12*3W
High Power led
PAR56TG-18*1W
18W
18*1W
High Power led
PAR56TG-18*3W
54W
18*3W
High Power led


roduct name: led pool light
Main Material: 316 stainless steel
Item Code:FG-UWL280-252S/FG-UWL280-333S/FG-UWL280-441S/FG-UWL280-531S/FG-UWL280-630S
Type LED: Taiwan Epstar SMD 2835 / SMD3014
Max. energy consumption: 18W, 24W,30W,35W,42W
LED Qty: 252pcs, 333pcs, 441pcs, 531pcs, 630pcs
Color temperatures: Daylight white (6500K) /Warm white (3250K) /Red/ Blue/ Green
Protection class: IP68
Max. installation depth: 5m
Warranty:2 years
LED Driver/Power supply: Driver Inside the Body
RGB Control Mode: Switch Control

Working temperature: -20°C to -40°C
Applications:
It is used in swimming pools, fountains, scenic ponds' illumination and decoration.

Voltage details:
Single color: R/Y/B/G/CW/WW (AC/DC12V)
RGB on/off controlled (AC12V)
DMX512 Controlled 4wires (DC12v)
External controlled 4wires (DC12V)
RGB 2wires PLC controlled (AC12V)

Color Program details for RGB on/off controlled with memory (totally 16models:
1. White (Red+Green+Blue)
2.RED
3. Green
4.Blue
5. Skyblue(Green+blue)
6. Orange(Red+green)
7.Purple(red+blue)
8. static Blue color, Red gradually changing
9. static Green, Red gradually changing
10. static Blue, Green gradually changing
11. static white(Cool white)
12.G→B→GB→RG→RB→RGB→R Slow gradually changing in circulation
13.R→G→B→GB→RG→RB→RGB→RG→G→GB→B→RB→R gradually changing in circulation
14.R→G→B Jumpy changing from fast to Slow→R→(R→B→G) Jumpy changing from fast to Slow→(R→RB→RG→G→GB→RB→RG→GB)fast gradually changing,then changed circulation
15,RG→G→GB→B→RB→R Slow gradually changing in circulation
16. Program 14 +13 in Slow gradually changing in circulation

Features:
1. Adopt super-high bright LED as the light source and any single color is available, like red, green, blue, yellow, white and RGB colors. It is remote control.
2. Adopt thick glass as the body shell which is corrosion resistant and quick heat dispelling.
3. It is IP68
4. Longer life-span, above 50, 000 hours.
5. Low consumption, energy saving and environmental protecting.
6.The light color will be more easily to heat dissipation. So they has longer life-span than normal DIP-LED PAR56 underwater light.
7.The light is more bright-colored and more penetrating in water than normal DIP-LED PAR56 underwater light.

Cautions:
1. Work with AC12V, otherwise the light will be possibly damaged
2. This light should be installed not deeper than 50cm underwater
3. The power wire of the lights shall be joined with other power wire out of the water. Waterproof treatment should be done if the joint is in the water otherwise there is risk for water intrusion.
4. The light should be in the water for the test of remote function or other functions, and don't test it more than 3 minutes out of the water otherwise the light will be possibly damaged or caused disfunction. If the user is not available to test it in the water, then please shut off the light every 3 minutes to be cold for the new test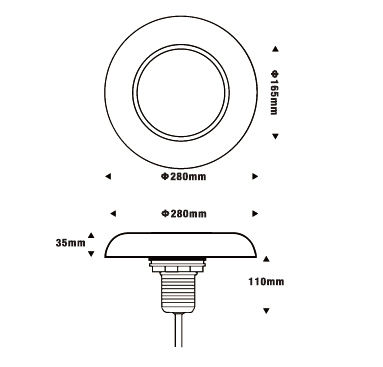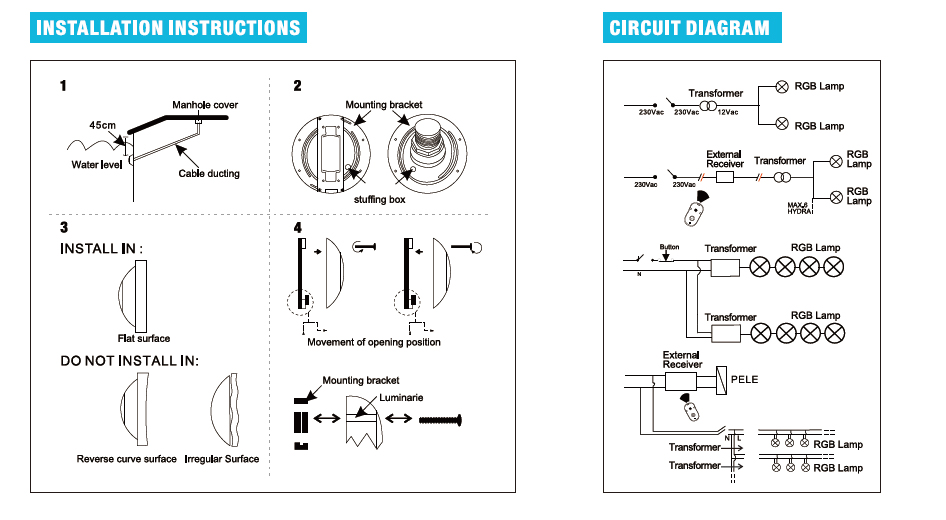 Related Products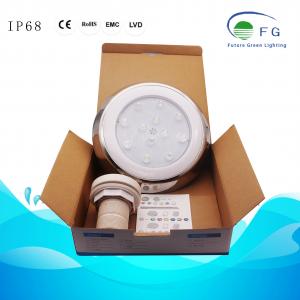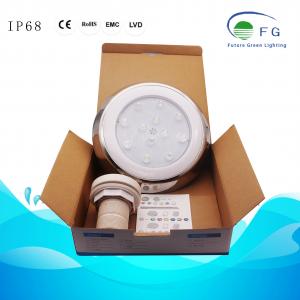 230mm 316 Stainl...